UCF's first Workday system update of the new year completed on Saturday, March 11. Workday releases two system updates annually (March and September) to launch new system functionality. All UCF employees (including faculty and staff) will notice global navigation menu changes.
View our "Workday Digest" video to explore some of our new system features.
**Optional: Download March 2023 System Release Guide 
Use the navigational folders below to view a breakdown of campus community impacts for our first 2023 Workday system release:
Your My Tasks includes notifications of tasks, approvals, due dates, and other items sent to you as part of your organization's business processes. Two new features are now available to  help assist with organization and accessibility:
Advanced Search – Click the Advanced Search hyperlink (located under All Items) to filter on your tasks by "Task" or "Date Range". 
Saved Searches – Click the Save icon on any search performed in your My Tasks.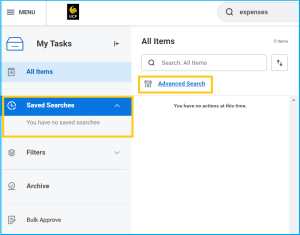 Workday Menu
A new Sort icon is now available in your Workday Menu!
Select the Menu icon to access your applications (i.e., Workday Apps or Applets) and shortcuts located at the top left corner of your Workday home page. 
Select the new Sort icon to sort your applications by: Your Saved Order, Recently Used or Frequently Used.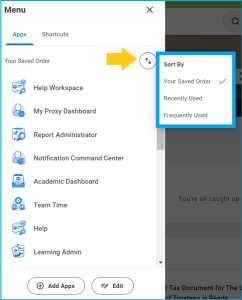 Workday Search
Workday now provides a new shortcut to seek support while using the Workday search bar.
Type in any keyword in the Workday search bar and press Enter. This will take you to your Search Results Page.
One the right side of your generated search results, you will now see a Need Help box. 
Click Visit Help Center to access Workday Help. This box serves as a new shortcut to Workday Help where you can view knowledge articles (i.e. job aids, video demos, etc.) or submit a Help Case.


All users will now be able to view and reply to Archived Help cases that have been "canceled" or "resolved". These notifications will be sent via your UCF email.
How to stay up-to-date with Workday
It is important to be aware of the following Workday communication resources to stay up to date: 
Visit the kNEXT website and scroll down to view our "System Updates" section for the latest information. 
View any Workday Announcements that appear on your homepage when you log into Workday (located below your "My Top Apps" section). 
Microsoft Teams announcements (designated groups for business centers and central staff) 
Review Workday Email Notifications sent directly to your UCF email account.